Building Washing For Your Richmond Commercial Property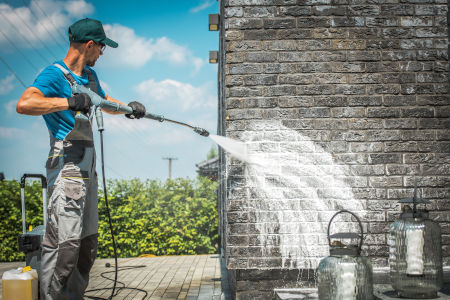 Building washing for Richmond commercial properties is one of Rain From Above Pressure Washing's finest exterior cleaning services. We can help improve the look of your local business storefront and enhance your customer experience all with one affordable, convenient service. Building washing brightens and sanitizes dingy, stained exteriors that have sustained heavy foot traffic, harsh weather conditions, and daily abuse from the elements. You can enjoy a storefront that looks new again and create a more appealing environment for your customers in just a matter of hours. Contact us for superior commercial pressure washing and see what a difference our services can make!
Boost Curb Appeal
Building washing is a quick and cost-efficient way to dramatically improve your business's curb appeal. Our technicians will remove seasons of caked-on dirt, grime, algae, and other eyesores that have been spoiling your clean image. If you're looking to sell or rent out your commercial property, then building washing can raise buyer interest and add instant value.
Prevent Damage
Pressure washing your business building removes all traces of mold, mildew, moss, and algae and prevents these growths from causing the decay of your exteriors. This saves you the hassle and expense of major repairs later and can increase the service life of your building's components. Keep your building in sturdy condition, and ask about building washing today.
Remove Allergens
Building washing removes pollen and dust buildup from your business exterior so that they don't cause allergy symptoms and breathing problems for either your customers or employees. Everyone can breathe easier and enjoy supreme comfort while they're at your place.
Increase Customer Interest
Building washing and storefront cleaning go hand in hand with increasing foot traffic and customer interest in your business. Seeing a bright, clean storefront appears more inviting to new clients and lets them know you value your business and their experience.
Rain From Above Pressure Washing's Soft Washing
Our technicians use soft washing to provide a thorough exterior clean that's gentle enough to prevent wear and tear. Our eco-friendly cleaning solutions will restore your business exterior to perfection and leave you with a storefront you can take pride in. Contact us when you need to revitalize your commercial building and see why we're the leader for pressure washing in Richmond!
When you need building washing for your Richmond commercial property, Rain From Above Pressure Washing will be happy to assist you!
Articles & Tips
4 Reasons To Invest In House Washing Services

If you're a homeowner, then chances are you're familiar with the benefits of professional house washing services. House washing improves several aspects of your home, from aesthetics to damage preven […]

6 Ways Pressure Washing Can Improve Your Business

If you own or manage a business, you know the importance of maintaining a clean and tidy storefront. Professional pressure washing i s a highly effective way to accomplish this result and keep your b […]