Your Richmond Gutter Cleaning Specialists Are Here To Help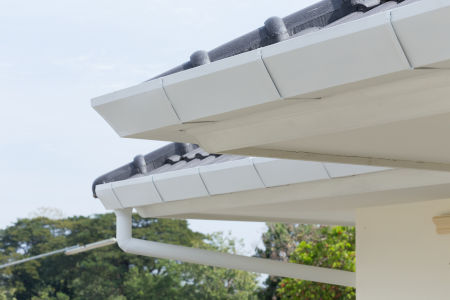 Rain From Above Pressure Washing specializes in superior gutter cleaning work to keep Richmond homes and businesses safe from water damage. The gutters of your property have the important role of collecting rainwater that runs off your roof and diverting it away from your home's foundation. For them to perform their role optimally, gutters need to be free of clogs and debris that could trap water and keep it from draining properly. Gutter cleaning ensures that your gutters remain free of problematic clogs and keep doing their job effectively. Our technicians will clean all debris from your gutters and take extra care to not cause them damage. Once we're finished, your gutters will be spotless and ready to take on heavy rains without issue. Keep your gutters in great shape and protect your home from water damage with gutter cleaning by Rain From Above Pressure Washing; after just one session with us, you'll see why we're the name in Richmond pressure washing!
Protect Your Landscaping
Many homeowners spend significant money and time to maintain their landscaping, so the last thing they want is for it to get ruined because of poorly functioning gutters. Gutter clogs lead to standing water in your gutter troughs that will eventually overflow. When this happens, your flower beds become a prime spot for the excess water to land. This sudden oversaturation will drown your plants and leave you with a dead, bare shell of what your plants once were. All the effort spent to keep your plants vibrant and beautiful will be for naught, and your curb appeal will take a hit, too. Don't let clogged gutters spell the end of your landscaping! Invest in gutter cleaning services with us and protect your plant life throughout the year.
Prevent Basement Flooding
One scary reality of dirty gutters is that they can lead to flooding along your foundation and in your basement. As stagnant water builds up in your gutter troughs and spills over the side, it can saturate the loose soil along your foundation and slowly leak into your basement space. The cost and stress of this problem can be significant, which is why routine gutter cleaning is so important. It will prevent flooding along your foundation and spare your basement the dismal despair of water damage.
Keep Your Roof Safe
Services like gutter cleaning and roof washing are essential to keeping your roof safe from damage and degradation. If gutters become clogged, then stagnant water settles against your roof and fascia and can quickly lead to wood rot and decay. Roof damage means that interior water leaks are soon to follow. One of the last things you want to face is water invading your home and ruining your interiors. Luckily, quality gutter cleaning services are available to you with just a phone call. Rain From Above Pressure Washing's gutter cleaning will keep your roof safe from debilitating water damage and will prevent water leaks from occurring inside your home.
Remove Pests
Gutters tend to attract animal pests like birds, wasps, and insects that want to settle in an enclosed space. These critters contribute to gutter clogging and can exacerbate drainage problems. Routine gutter cleaning eliminates this animal debris and ensures that it doesn't hinder your gutters' performance.
Rain From Above Pressure Washing's Promise
As Richmond's leading pressure washing provider, Rain From Above Pressure Washing takes pride in caring for residential homes in the area. We use our knowledge and experience to deliver the results you want and keep your exteriors in prime condition year after year. When it comes to gutter cleaning, our techs truly shine. We'll work swiftly to clear out clogs and debris and keep your gutters performing at their best. Our work will undoubtedly reduce and possibly eliminate the threat of water damage to your exteriors and keep your home structurally sound no matter the severity of local weather conditions. Moreover, working with us guarantees you the finest customer service experience of any pressure washing contractor in the area. We're here to listen to your needs and accommodate them the best we can so that you walk away happy with the look and condition of your exteriors. Do yourself and your property a favor and remember Rain From Above Pressure Washing when it's time for your next exterior cleaning project.
When you need expert gutter cleaning for your Richmond, Rain From Above Pressure Washing is here to provide you with top-notch service and an outstanding customer experience.
Articles & Tips
4 Reasons To Invest In House Washing Services

If you're a homeowner, then chances are you're familiar with the benefits of professional house washing services. House washing improves several aspects of your home, from aesthetics to damage preven […]

6 Ways Pressure Washing Can Improve Your Business

If you own or manage a business, you know the importance of maintaining a clean and tidy storefront. Professional pressure washing i s a highly effective way to accomplish this result and keep your b […]