Storefront Washing For Your Richmond Business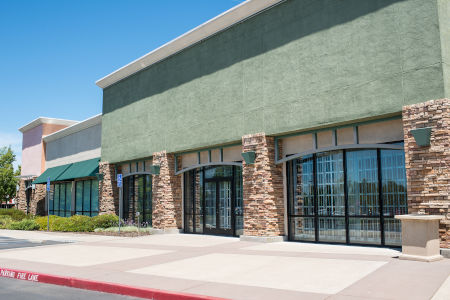 Rain From Above Pressure Washing is your Richmond leader in top-quality storefront cleaning services. We strive to help local commercial property owners keep their businesses flourishing through our advanced and transformative pressure washing work. We can easily remove even the most stubborn, caked-on grime, surface stains, mold, mildew, and any other unsightly blemish that distracts from the appeal of your storefront.
Increase Consumer Foot Traffic
When potential customers wander upon your clean and tidy storefront, they're much more likely to come inside and see what you have to offer. Maintaining a manicured business exterior does wonders for attracting new customers and creating a positive buzz around your livelihood. If you'd like to entice more passersby to stop in and spend time in your business location, then professional storefront cleaning is the best place to start.
Preserve The Quality Of Your Exteriors
Routine storefront washing and building washing go a long way towards preserving the condition of your exteriors so that you face fewer repairs throughout their service lives. Keep your windows, awning, sidewalks, and more looking great and in solid shape for years to come with the finest pressure washing in Richmond!
Maintain Safe Conditions For Your Patrons
Storefront washing eliminates any unwelcome substances that could harm your patrons or employees. Our technicians will use pressure washing to destroy slippery mold and algae growths that could cause slips and falls. This enhances safety for everyone on your property and can save you from the threat of legal trouble by preventing injury.
Reduce Allergens
Storefront washing is an effective way to cleanse your exteriors of dust and pollen that could cause allergy symptoms for your guests and employees. This promotes better health and optimizes comfort for everyone who spends time at your place of business.
Rain From Above Pressure Washing's Commitment To Every Client
Our team is passionate about helping commercial property owners in Richmond preserve the beauty and quality of their business buildings. We'll clean your storefront from top to bottom using soft washing that won't cause damage or wear and tear. By the time we're finished, you'll think you're seeing a completely different building, one that's refreshed and revitalized. If you're in the area and want to see your commercial property shine like new, then our crew is more than happy to serve you!
Call us when you need storefront washing and see why the Richmond community loves Rain From Above Pressure Washing!
Articles & Tips
4 Reasons To Invest In House Washing Services

If you're a homeowner, then chances are you're familiar with the benefits of professional house washing services. House washing improves several aspects of your home, from aesthetics to damage preven […]

6 Ways Pressure Washing Can Improve Your Business

If you own or manage a business, you know the importance of maintaining a clean and tidy storefront. Professional pressure washing i s a highly effective way to accomplish this result and keep your b […]