Leading Richmond Exterior Window Cleaning Crew You Can Trust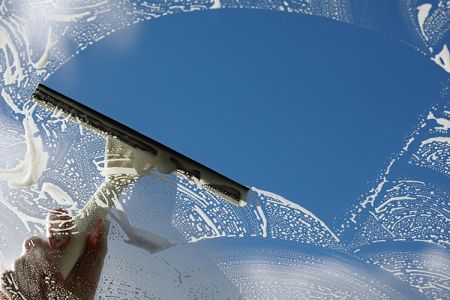 Rain From Above Pressure Washing gladly provides superb exterior window cleaning services to the property owners of Richmond and surrounding cities. Your windows are one of your property's most prominent features, and their condition can either make or break your curb appeal. Exterior window cleaning every year ensures that your windows stay attractive and sturdy and that they continue to add to the beauty of your home or commercial property. Let Rain From Above Pressure Washing handle the care of your windows and see what makes us the first choice for Richmond pressure washing.
Preserve Your Window Glass
Many homeowners don't realize that residential window glass is a porous material that absorbs dirt, dust, and grime as they build up over time. Holding these particles gradually degrades your windows and decreases their lifespan. Exterior window cleaning combats this deterioration by regularly removing dirt and grime buildup on window surfaces. Not only will your windows look significantly better, but they'll also be able to hold up well year after year.
Improve Heating And Cooling Efficiency
Exterior window cleaning removes dirt and grime build ups on windows that act as a barrier to natural sunlight. Getting rid of this barrier allows natural light to flow into your home unobstructed and provides a free form of heat during the colder months. Warming your home naturally isn't just healthier for you and your family, but it also reduces the need for air conditioning use. This helps you save on energy costs and lessen your home's impact on the environment.
Improve Lighting Conditions
Exterior window cleaning allows for better natural lighting in the home, which provides a brighter and more favorable interior for the whole family. Increased exposure to natural light has numerous health benefits, like improving symptoms of seasonal depression and regulating sleep patterns. Keep your interior luminous and bright by letting Rain From Above Pressure Washing polish your windows back to perfection.
Remove Allergens
Exterior window cleaning and house washing services wash away common allergens like pollen, dust, and pet dander from your windows. Keeping these nuisances at bay prevents them from causing allergy symptoms like sneezing, watery eyes, and breathing difficulties for you and the members of your family. Invest in exterior window cleaning annually and keep your family happy and healthy even in the throes of allergy season!
Soft Washing That Keeps Your Windows Safe
Rain From Above Pressure Washing's soft washing is just what your windows need to shine like new again. Eco-friendly detergents and gentle water spray will thoroughly cleanse your window surfaces and dissolve all traces of dirt, spots, and allergens. While soft washing is much milder than normal pressure washing, it doesn't sacrifice effective deep cleaning. Give your windows the deep clean they need without risking damage to any of their components by trusting Rain From Above Pressure Washing's superior soft washing capabilities.
Let Rain From Above Pressure Washing handle all your exterior window cleaning in the Richmond area and enjoy sparkling windows throughout your property!
Articles & Tips
4 Reasons To Invest In House Washing Services

If you're a homeowner, then chances are you're familiar with the benefits of professional house washing services. House washing improves several aspects of your home, from aesthetics to damage preven […]

6 Ways Pressure Washing Can Improve Your Business

If you own or manage a business, you know the importance of maintaining a clean and tidy storefront. Professional pressure washing i s a highly effective way to accomplish this result and keep your b […]