First-Rate Richmond House Washing To Upgrade Your Curb Appeal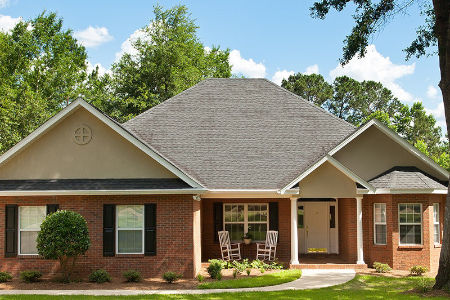 Rain From Above Pressure Washing takes pride in helping Richmond homeowners with our top-rated house washing work. Our team knows the true value of your home. It's the place where you watch your family grow, where you make cherished memories, and where you find sanctuary when the day is done. That's why our team is passionate about helping homeowners keep their special places looking great and in excellent condition. We'll treat your exteriors to the most effective and transformative pressure washing work and restore your home's original beauty to the fullest!
Eliminate Mold, Bacteria
House washing effectively sanitizes your exteriors and eliminates mold, mildew, algae, and other biological growths that commonly develop around the outside of residential homes. Since some of these growths can cause decay and speed up degradation, it's important to keep them under control with regular cleanings. Furthermore, routine house washing promotes better health in your household by removing allergens and toxins that cause allergies in humans. You can improve your home's air quality and overall comfortability. Don't let mold and other toxins wreak havoc on your exteriors; contact Rain From Above Pressure Washing for house washing and destroy them at their core!
Enhance Appearance
Improving your home's appearance and its curb appeal has never been easier than with professional house washing from our team. Our pressure washing will make your house look years younger and will erase all signs of unsightly grime buildup. House washing is a great way to prepare your home to go back on the market and add to its property value. Whatever your intentions may be, house washing is sure to benefit you in multiple ways.
Defend Against Damage
House washing provides an exceptional means of damage prevention and can cut down on the number of repairs you'll need over the years. This saves you time, money, and stress. It also ensures that your exteriors hold up well over the years.
Help Your Exteriors Last
House washing annually will help your exterior installations reach their maximum service life and save you the hassle of an unexpected replacement job. Routine house and roof washing mitigate the effects of the natural elements so that they don't take such a heavy toll on your key exteriors. You can keep your home standing tall and strong for years to come!
The Gentle Power Of Soft Washing
Rain From Above Pressure Washing's soft washing is the most effective way to clean your home's exteriors from top to bottom. Using mild water spray and environmentally safe cleaning solvents, we'll eliminate all dirt, grime, and organic growths and leave behind bright, sanitized surfaces. This gentle method guarantees no undue damage or wear and tear to any of your exteriors.
Rain From Above Pressure Washing's Guarantee To Every Client
As a leading provider of pressure washing for Richmond, Rain From Above Pressure Washing vows to deliver the finest and most effective house washing of any company in town. We take the care of your property just as seriously as if it were our own, so you can rest assured that your home is in good hands with us. Your total satisfaction is our top priority, and we'll work diligently until we've delivered the results you want.
Contact our team for top-notch house washing in the Richmond area and help your home look better than ever!
Articles & Tips
4 Reasons To Invest In House Washing Services

If you're a homeowner, then chances are you're familiar with the benefits of professional house washing services. House washing improves several aspects of your home, from aesthetics to damage preven […]

6 Ways Pressure Washing Can Improve Your Business

If you own or manage a business, you know the importance of maintaining a clean and tidy storefront. Professional pressure washing i s a highly effective way to accomplish this result and keep your b […]