Experienced Deck Cleaning & Restoration Pros Serving Richmond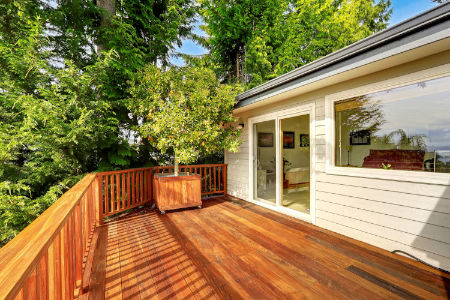 Rain From Above Pressure Washing offers the finest in deck cleaning and restoration services for the homeowners of Richmond. Your home's deck is your outdoor haven, your gathering spot to enjoy time with friends and family, and our priority is to keep it in prime condition for you. Our deck cleaning services do exactly that. During a routine deck service, we'll remove dirt and mud buildup, kill algae growth, and destroy mold and mildew at their core. We'll renew the look of your deck and ensure that it's a safe, sanitary place for you and l your loved ones to make memories together. If you're looking to invest in top-quality deck cleaning for your home, then contact Rain From Above Pressure Washing and let us show you why we're the premier in pressure washing for Richmond.
Enhance Safety
If there is any slippery mold or algae growth on your deck, then deck cleaning will get rid of it before it can pose a fall risk to your family members or guests. Professional cleaning services remove these hazards so that your deck remains a safe place for everyone to spend time.
Preserve Structural Integrity
Deck cleaning kills off toxins like mold and mildew that can feed on your deck boards and cause them to decay over time. Furthermore, restoration services like staining offer an added layer of protection against harmful UV rays that cause fading. Deck cleaning and restoration are essential to maintaining the structural integrity of your deck and staving off its disintegration.
Improve Appearance
Deck cleaning and restoration will revitalize your outdoor entertainment space and erase years of abuse from the elements. Our pressure washing can restore vibrancy to your deck and make it look new again so that it contributes to the overall beauty of your home.
Deck Restoration To Breathe New Life Into Your Outdoor Space
After years of weathering abuse from the elements, your deck is likely showing signs of aging and wear and tear. Splinters, cracks, and faded deck boards are just a few signs that your deck needs professional deck restoration work from a reliable pro. Deck restoration can include sanding, staining, and replacing rotten boards and posts to renew the state of your deck and make it an area you enjoy spending time in again. Rain From Above Pressure Washing specializes in these restoration services and can return your deck to its original splendor with ease. Don't let a rotting deck subtract from the appeal of your home; invest in our deck restoration services and see your deck shine like new!
Contact Rain From Above Pressure Washing for quality deck cleaning in the Richmond area and reclaim your favorite outdoor living area for an affordable price. Ask also about our concrete cleaning services if you're looking to restore your home's patio or pool deck!
Articles & Tips
4 Reasons To Invest In House Washing Services

If you're a homeowner, then chances are you're familiar with the benefits of professional house washing services. House washing improves several aspects of your home, from aesthetics to damage preven […]

6 Ways Pressure Washing Can Improve Your Business

If you own or manage a business, you know the importance of maintaining a clean and tidy storefront. Professional pressure washing i s a highly effective way to accomplish this result and keep your b […]