Quality Playground Cleaning For Your Richmond Home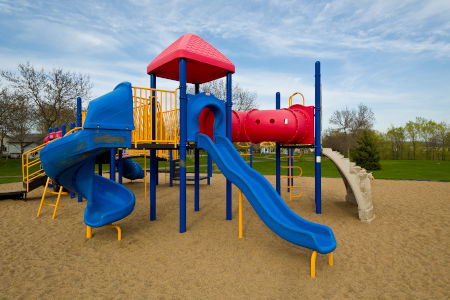 Playground cleaning in Richmond is one of Rain From Above Pressure Washing's many specialties. We are dedicated to keeping playground areas clean and safe for the community's children. Our technicians will thoroughly cleanse all playground equipment, remove stray garbage, and sanitize all surfaces to maintain a healthy play area for all.
Maintain An Attractive Appearance
Services like playground cleaning and rust removal are vital to ensuring the aesthetic appeal of outdoor play areas. Whether you're caring for a public playground or a personal one in your backyard, keeping these spots clean and attractive improves curb appeal and projects a clean image to the rest of the community.
Eliminate Mold, Mildew, And Bacteria
When it comes to kids' play areas, it's common knowledge that bacteria is rampant. Mold, mildew, and algae are also common in these areas and need to be kept under control to prevent them from causing health problems for children at play. Playground cleaning is an effective way to sanitize all surfaces and destroy any toxins present.
Stop Communicable Illnesses
With so many hands touching playground surfaces, it's only natural that they become sources of transmittable germs. Without regular sanitization, these germs will bounce from kid to kid and result in higher numbers of seasonal illnesses. Routine playground cleaning allows technicians to destroy pathogens and help prevent the spread of common illnesses like cold and flu. With routine pressure washing, you can ensure that your children play in a healthy and hygienic place.
Remove Animal Waste
Outdoor playgrounds often become receptacles for animal waste that makes them unsanitary. Rain From Above Pressure Washing's playground cleaning eliminates all traces of animal feces, so they can't come into contact with your kids.
Maintain Safety
Playground cleaning eliminates slippery growths like mold and algae that can form on playground equipment. Removing these growths stops them from presenting a fall hazard to your children and is necessary to prevent injuries from occurring in play areas. If mold or algae have developed on your playground equipment, then scheduling playground cleaning should top your to-do list.
Rain From Above Pressure Washing's Promise
At Rain From Above Pressure Washing, we strive daily to give Richmond the quality services it deserves. As a leader for pressure washing in Richmond, we take our responsibility of exterior cleanliness to heart. When it comes to play areas, we want to guarantee a safe space for kids to be kids. We stand by the power of our pressure washing work to keep playgrounds clean and healthy environments for everyone.
To keep your Richmond play area clean and safe, contact Rain From Above Pressure Washing for more information on our top-notch playground cleaning services today!
Articles & Tips
4 Reasons To Invest In House Washing Services

If you're a homeowner, then chances are you're familiar with the benefits of professional house washing services. House washing improves several aspects of your home, from aesthetics to damage preven […]

6 Ways Pressure Washing Can Improve Your Business

If you own or manage a business, you know the importance of maintaining a clean and tidy storefront. Professional pressure washing i s a highly effective way to accomplish this result and keep your b […]