Aggregate Cleaning & Sealing For Your Richmond Concrete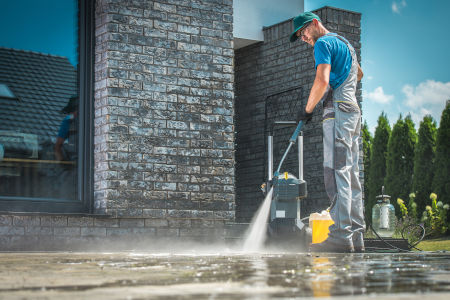 Rain From Above Pressure Washing is delighted to provide aggregate cleaning and sealing services to the Richmond community. Our technicians specialize in maintaining your exposed aggregate patios, driveways, sidewalks, and more to keep your home's exterior looking neat and attractive. We'll use advanced and proven pressure washing techniques to remove dirt and grime from these areas and restore their original beauty.
What Is Aggregate?
Aggregate concrete is a composite material that's comprised of cement and various sand and stone particles bonded together to form a durable, long-lasting product. It's commonly used for things like driveways, sidewalks, patios, and porches.
Remove Stains And Buildups
Aggregate cleaning services eliminate any stubborn stains, algae, mold, and dirt accumulation plaguing your composite hardscapes to leave behind a bright and pristine surface. Our work will heighten your home's curb appeal instantly and help reduce the appearance of wear and tear. Aggregate cleaning not only improves aesthetic appeal but also helps your concrete features reach their maximum lifespan so that you can avoid a replacement for as long as possible.
Protect Your Concrete With Aggregate Sealing
Aggregate sealing supplies your concrete features with an extra layer of protection from UV rays and harsh weather conditions. Our technicians will apply a professional-grade sealer made of acrylic resin to your aggregate installations that will block moisture and damage from the elements. Professional sealing helps your aggregate features stay intact and beautiful despite abuse from wind, rain, sun, and foot traffic. Help your walkways and driveway stay in good shape for years to come with top-notch aggregate cleaning and sealing by Rain From Above Pressure Washing.
Rain From Above Pressure Washing's Satisfaction Guarantee
As a leader of pressure washing in Richmond, our team's mission is to leave you with flawless aggregate installations that look new again. We'll work diligently to yield outstanding results in a timely manner, and we guarantee a first-class customer service experience with every visit. We're proud to be your leading specialist in aggregate, concrete, and paver cleaning work, and we'd love the chance to transform your property's hardscapes!
Contact Rain From Above Pressure Washing for superior aggregate cleaning in the Richmond area and let our experts work their charm on your concrete!
Articles & Tips
4 Reasons To Invest In House Washing Services

If you're a homeowner, then chances are you're familiar with the benefits of professional house washing services. House washing improves several aspects of your home, from aesthetics to damage preven […]

6 Ways Pressure Washing Can Improve Your Business

If you own or manage a business, you know the importance of maintaining a clean and tidy storefront. Professional pressure washing i s a highly effective way to accomplish this result and keep your b […]