Wood & Vinyl Fence Cleaning For Well-Cared For Richmond Properties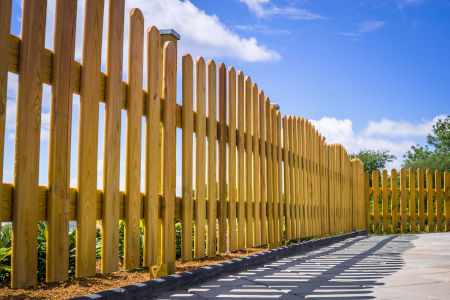 Rain From Above Pressure Washing offers vinyl fence cleaning to Richmond residents to spruce up their fences and improve their curb appeal. Fencing around your home adds a touch of elegance and privacy that enhances the appearance of your home. While fences offer aesthetic appeal, they do need regular cleaning and maintenance to stay attractive. Vinyl fence cleaning brightens your fencing and keeps your home exterior looking flawless. When you need quality fence care, contact Rain From Above Pressure Washing, your leader for pressure washing in the Richmond area.
Remove Tough Stains
Algae, dirt, and mold stains on your fence are impossible to overlook and tricky to remove on your own. These eyesores ruin the neat aesthetic your fence provides and makes your home look unkempt. Rain From Above Pressure Washing's fence cleaning will eliminate these surface stains and make your vinyl fencing look newly installed again.
Maintain Curb Appeal
There's nothing that complements your home's beauty quite like a bright and pristine fence. To ensure that your fence stays looking its best, you'll need to schedule cleaning services as needed throughout the year. Routine vinyl fence cleaning helps uphold your home's curb appeal and adds to its property value instantly. If you're planning to put your home on the market, or if you just want a neat and tidy street view, then fence cleaning by a pro will get you the results you want!
Preserve Your Fence
Vinyl fence cleaning keeps your fencing material in good shape so that it lasts as long as possible. With regular cleanings, you can stop the growth of mold and keep it from degrading your fencing material. Cleaning helps your fence last and protects it from damage so that it stands tall and strong for years to come.
The Benefits Of Wood Fence Cleaning
Wooden fences are another popular fencing choice for residential homes. Similar to vinyl, wood fences accumulate stains and buildups that can tarnish their beauty. Rain From Above Pressure Washing also specializes in wood fence cleaning to keep your wooden fence strong and sturdy over the seasons.
Increase longevity. Removing growths of mold and mildew will keep these toxins from feasting on your fence boards and causing them to decay before their time. Wood fence cleaning sanitizes your fencing and kills off mold and mildew before they cause damage.
Remove stains. Like vinyl, wood fences are prone to surface stains from a variety of outdoor elements. Fence cleaning lifts these stains and helps your wood fence look new again. If you're tired of seeing unsightly splotches on your fences, then pressure washing is a fast and affordable solution for you.
Prep for new stain or paint. If your fence has been up for several years, then odds are its color has faded to a dull, dreary shade of ash. When your fence reaches this point, it's time for a fresh coat of stain or paint. Wood fence cleaning preps your fencing for fresh stain by removing dirt and grime buildup so that the new coat goes on smoothly.
When you need vinyl fence cleaning in Richmond, leave the work to Rain From Above Pressure Washing and let us restore your fencing to perfection! Ask also about our premier deck cleaning services to renew your outdoor entertainment area!
Articles & Tips
4 Reasons To Invest In House Washing Services

If you're a homeowner, then chances are you're familiar with the benefits of professional house washing services. House washing improves several aspects of your home, from aesthetics to damage preven […]

6 Ways Pressure Washing Can Improve Your Business

If you own or manage a business, you know the importance of maintaining a clean and tidy storefront. Professional pressure washing i s a highly effective way to accomplish this result and keep your b […]