4 Reasons To Invest In A House Washing Service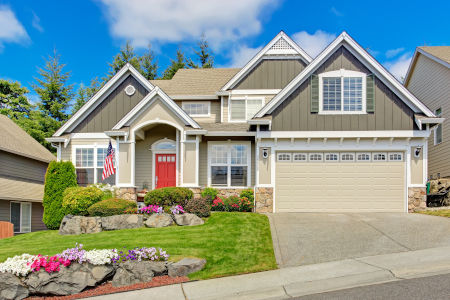 If you're a homeowner, then chances are you're familiar with the benefits of professional house washing services. House washing improves several aspects of your home, from aesthetics to damage prevention and longevity. It's also a great way to get your home ready for upcoming events, like parties or open houses for a future sale. There's no shortage of great reasons to invest in house washing for your property, and you'll end up gaining more benefits than you bargained for every time.
Prepare For An Upcoming Sale
If you're planning to put your home on the market anytime soon, then a house washing service should be on your to-do list. Real estate professionals often recommend services like house washing and window cleaning to prep for an upcoming sale as they make your house more appealing to potential buyers. Professional pressure washing techs use soft washing to treat areas like your siding, windows, porch, and more and remove any stains, dirt, or algae growth that could deter people from wanting to come inside. Once the cleaning session is complete, you'll have a home exterior that's sure to attract high interest from prospective buyers and garner higher offers.
Increase Curb Appeal
The fastest and most cost-effective way to improve your home's curb appeal is to invest in house washing services. House washing gives a thorough clean to several exteriors at once and removes blemishes and growths that subtract from your home's beauty. In only a few short hours, your exteriors will look flawless again, and your home will be one of the best looking in the neighborhood. Whether you're planning to sell soon or you want to come home to a clean and beautiful facade at the end of the day, house washing will give you the results you want and send your curb appeal soaring!
Add Property Value
According to the National Association of Realtors, pressure washing the outside of your home is a fast and affordable way to boost your property value. In some cases, you can see an increase of several thousands of dollars, all from this one convenient service. This is another reason real estate agents recommend house washing before having your home photographed and putting it on the market.
Prepare For The Holiday Season
The holidays are usually times for friends and family members to come together and celebrate. If you're the one hosting this year's holiday gatherings at your home, then a house washing is just the thing to get your exteriors looking great for your guests. After all, you want to be able to take pride in the way your house looks when visitors come, not be bothered by the sight of algae stains or unsightly dirt buildup. Additionally, a clean exterior will better complement your holiday decorations and make your home stand out in the neighborhood for all the right reasons. Enjoy this holiday season in a clean and beautiful home with those you love by investing in house washing before it gets too cold!
If you need to revitalize the look of your Richmond area home, then contact Rain From Above Pressure Washing and ask about our effective house washing services. We'll help you achieve your goals for your home at the best rates in town!
Articles & Tips
4 Reasons To Invest In House Washing Services

If you're a homeowner, then chances are you're familiar with the benefits of professional house washing services. House washing improves several aspects of your home, from aesthetics to damage preven […]

6 Ways Pressure Washing Can Improve Your Business

If you own or manage a business, you know the importance of maintaining a clean and tidy storefront. Professional pressure washing i s a highly effective way to accomplish this result and keep your b […]