5 Ways Gutter Cleaning Protects Your Home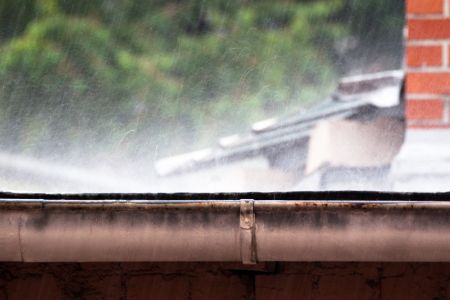 Professional gutter cleaning is much more than a cosmetic improvement for your home; it's actually a crucial step to preventing water damage to your other exteriors. Gutters have the simple but important task of guiding rainwater away from your home so that it doesn't flood areas like your foundation. For gutters to function properly, they need to remain clear of clogs and debris buildup. That's where professional gutter cleaning comes in handy. When performed as recommended, this service can save your home from a host of issues and prevent the need for expensive repairs. Read on to learn the key ways gutter cleaning protects your home, and remember to call your local pressure washing provider when your gutters need clearing out.
Prevents Wood Rot And Roof Degradation
Gutter clogs trap water in your gutter troughs and prevent it from exiting through downspouts properly. This standing water settles along your roof and fascia where it eventually causes decay and structural damage to the roof. Routine gutter and roof cleaning services prevent this problem from arising and ensure that no part of your roof suffers the ill effects of stagnant rainwater. Don't let your roof fall prey to early disintegration; invest in quality gutter maintenance and keep this key installation safe throughout the year.
Keeps Your Landscaping Safe
If clogs cause standing water in your gutters, then even your landscaping could be at risk. As more water accumulates in your gutter troughs, eventually they will overflow and saturate your flower beds. This sudden dump of water can easily drown your plants and leave you with a flower graveyard. The time, effort, and cost that you put into maintaining your landscaping will be for nothing, and your curb appeal will drop, too. Gutter cleaning easily prevents this from happening and ensures that your plants stay safe from the threat of excess rainwater.
Prevents Basement Flooding
Believe it or not, clogged gutters can be a cause of basement flooding in your home. If water pools in the loose soil around your foundation, then it can seep into the interior of your house and accumulate in your basement. The water damage that stems from flooding can be substantial and expensive to resolve, which is why you don't want to neglect gutter cleaning when it's necessary.
Keeps Your Downspouts Secure
Your downspouts can also suffer from clogs, which isn't a problem to ignore. Water can become trapped in your downspouts and put excess strain on the brackets securing them to your home. To keep your downspouts firmly in place and free of damage, you'll need to clear out your gutters regularly with a cleaning service.
Prevents Pest Infestations
Clogged gutters make attractive dwelling spots for pests like insects, mosquitos, and birds. Once these small critters settle in your gutters, they only further contribute to the problem of clogs. Gutter cleaning throughout the year keeps these pests from making a home in your gutters and obstructing the proper flow of rainwater as it exits them.
Stops Mold And Mildew Growth
Gutter cleaning clears out stagnant water that creates a favorable environment for the development of mold and mildew. Preventing these growths is essential if you want to avoid unsightly stains and gradual damage to your roof, fascia, and gutters. Keep your gutters clean and clear, and you can keep pesky mold growth at bay!
If you're in the Richmond area and need professional gutter cleaning to protect your exteriors, then you should reach out to Rain From Above Pressure Washing. Our pressure washing pros will get your gutters back into proper working order in no time!
Articles & Tips
4 Reasons To Invest In House Washing Services

If you're a homeowner, then chances are you're familiar with the benefits of professional house washing services. House washing improves several aspects of your home, from aesthetics to damage preven […]

6 Ways Pressure Washing Can Improve Your Business

If you own or manage a business, you know the importance of maintaining a clean and tidy storefront. Professional pressure washing i s a highly effective way to accomplish this result and keep your b […]