6 Ways Pressure Washing Can Improve Your Business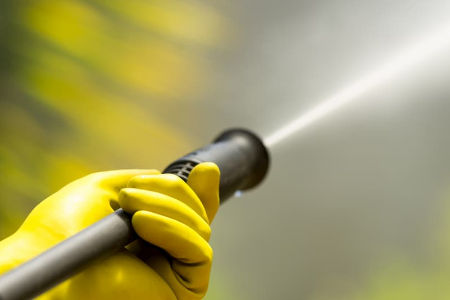 If you own or manage a business, you know the importance of maintaining a clean and tidy storefront. Professional pressure washing i s a highly effective way to accomplish this result and keep your building in excellent shape despite years of fighting the elements. If you're a business owner in the Richmond area, you should take advantage of commercial pressure washing services and see all this affordable bit of maintenance has to offer!
Improve Curb Appeal
A clean business exterior will send your property's curb appeal soaring, which is paramount if you're planning to sell or rent out your storefront. Prospective owners or renters will be much more inclined to pick your building if it's in favorable condition and has an exterior free of eyesores.
Attract More Foot Traffic
Keeping your storefront clean and inviting is key to creating more foot traffic through your doors. When potential customers approach your store and see that it's well taken care of, they're much more likely to come inside and see what your business has to offer. Pressure washing provides an effective means of maintaining your exterior so that it attracts positive attention and entices customers to visit.
Project A Clean Image
When running a local business, projecting a clean image to the community is crucial for establishing a positive reputation and attracting new clients. The best way to show that you're a trustworthy and dedicated business is to start with the physical state of the building itself. Pressure washing will remove graffiti, rust, mold, and algae and leave a sanitized and flawless surface behind. When customers see the effort you put into caring for your business, it's only natural for them to feel more comfortable shopping with you.
Protect Against Damage
Consistent pressure washing can greatly increase the lifespan of your exteriors and protect them from early degradation. Services like building washing and concrete cleaning will keep your building in good shape over the years and mitigate the impact of the elements so that you're less likely to get stuck with severe structural damage.
Safety
Commercial pressure washing creates a safer environment for your patrons and employees by removing slippery substances from sidewalks and walkways. These fall hazards can result in injuries and sometimes legal trouble, which is why it's imperative to keep them under control. Concrete cleaning will keep slippery growths of mold and algae at bay, so they don't pose a threat to those who visit your place of business.
Promote Better Health
Building washing eliminates the presence of allergens like mold and pollen from the exterior of your building, so they can't cause allergic conditions for anyone inside. Getting rid of these unwelcome pests improves your building's air quality and promotes better health for all who visit your place.
Keep your business building clean and welcoming by investing in commercial pressure washing services throughout the year! You'll quickly see the difference this exterior cleaning can make!
Articles & Tips
4 Reasons To Invest In House Washing Services

If you're a homeowner, then chances are you're familiar with the benefits of professional house washing services. House washing improves several aspects of your home, from aesthetics to damage preven […]

6 Ways Pressure Washing Can Improve Your Business

If you own or manage a business, you know the importance of maintaining a clean and tidy storefront. Professional pressure washing i s a highly effective way to accomplish this result and keep your b […]